We are excited to announce that we are underway with our key roadshow events, aimed at informing our dedicated staff about the current state and future direction of our business.
This roadshow, which has seen leaders communicate to staff in GMI North East (in Newcastle) and GMI Yorkshire (Leeds), serves as a vital communication platform, ensuring that our valued employees are equipped with the knowledge and understanding necessary to actively contribute to the growth and success of our business.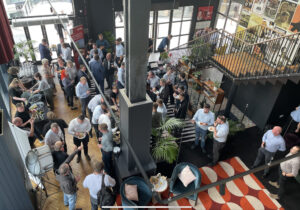 The roadshow provides a comprehensive overview of our business performance, highlighting key achievements on construction schemes, challenges, and milestones we have reached thus far.
Our CEO, Lee Powell, also sheds light on the strategic initiatives and objectives that will shape our future trajectory.
By transparently sharing this information, we aim to foster a culture of open communication, trust, and collaboration within our organisation.
This dynamic roadshow format allows for direct engagement with our employees, enabling them to ask questions, share insights, and provide valuable feedback.
We are committed to creating an environment where everyone feels valued, engaged, and aligned with our business objectives. The roadshow is a testament to our dedication to fostering a strong and informed workforce.
Through this initiative, we are confident that our employees will gain a deeper understanding of our business's vision, strategy, and future opportunities, inspiring them to drive our organisation forward with renewed enthusiasm and dedication.
We look forward to seeing colleagues across the North West in Manchester (Monday) and the Midlands on Tuesday (Birmingham).