Marc Banks, GMI Construction Group's Divisional Managing Director Northwest, is leaving the business after 21 years to seek a fresh challenge within the development sector.
He is joining a long-standing GMI client and as a result will continue to maintain a connection with the company he joined at the age of 16.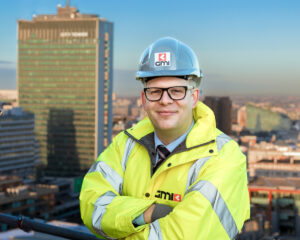 Construction Director Anthony Judge and Commercial Director Chris Tittle – the leadership teamwork currently alongside Marc at GMI's Northwest office – will assume the Regional Director and Regional Commercial governance roles respectively.
Chief Executive Officer Lee Powell and Chris Weathers Group Commercial Director will also be on hand to support the running of the Northwest business unit alongside their keen focus on delivery across the wider company.
Marc's decision to embark on a new chapter in his career is testament to his commitment to professional growth and a desire to expand his expertise within the wider construction industry.
He first joined GMI in 2002 as a Trainee Quantity Surveyor, later rising to become Commercial Manager and Commercial Director before he was appointed as Divisional Managing Director Northwest in 2019.
In that role he headed up the team and played a major role in cementing GMI's long-standing presence within the region, overseeing a host of major projects including the delivery of the iconic Dakota Hotel in Manchester.
Marc has also supported the delivery of 300,000 sq. ft manufacturing and distribution facilities at Ma6nitude in Middlewich, Cheshire, for Tritax Symmetry, the multi-million pound 91,000 sq. ft Kirby Retail Park on Merseyside and the 144 unit Build to Rent, 'Poplin' on Oldham Road, as well as securing No 3 Circle Square, the flagship £90m plus office scheme in Manchester's Knowledge Quarter currently on site.
Marc Banks said: "I've enjoyed an incredibly rewarding time with GMI, and I'm proud of the accomplishments we've achieved together. My decision to leave after 21 years is driven by my own desire to take on fresh challenges within the development sector."
Lee Powell, CEO of GMI Construction Group, expressed his gratitude for Marc's contribution to the company, particularly growing the business in the Northwest.
"While his many friends and colleagues will be saddened to see him go, I respect his decision to embark on a new chapter in his career, and we wish him the very best.
"He leaves behind a strong team in the North West, which is why Anthony Judge and Chris Tittle, who have both worked closely with Marc, will be jointly taking over to continue the growth and success in the region.
"Both will be familiar to many of our clients and bring a wealth of experience and a deep understanding of the region's construction sector."